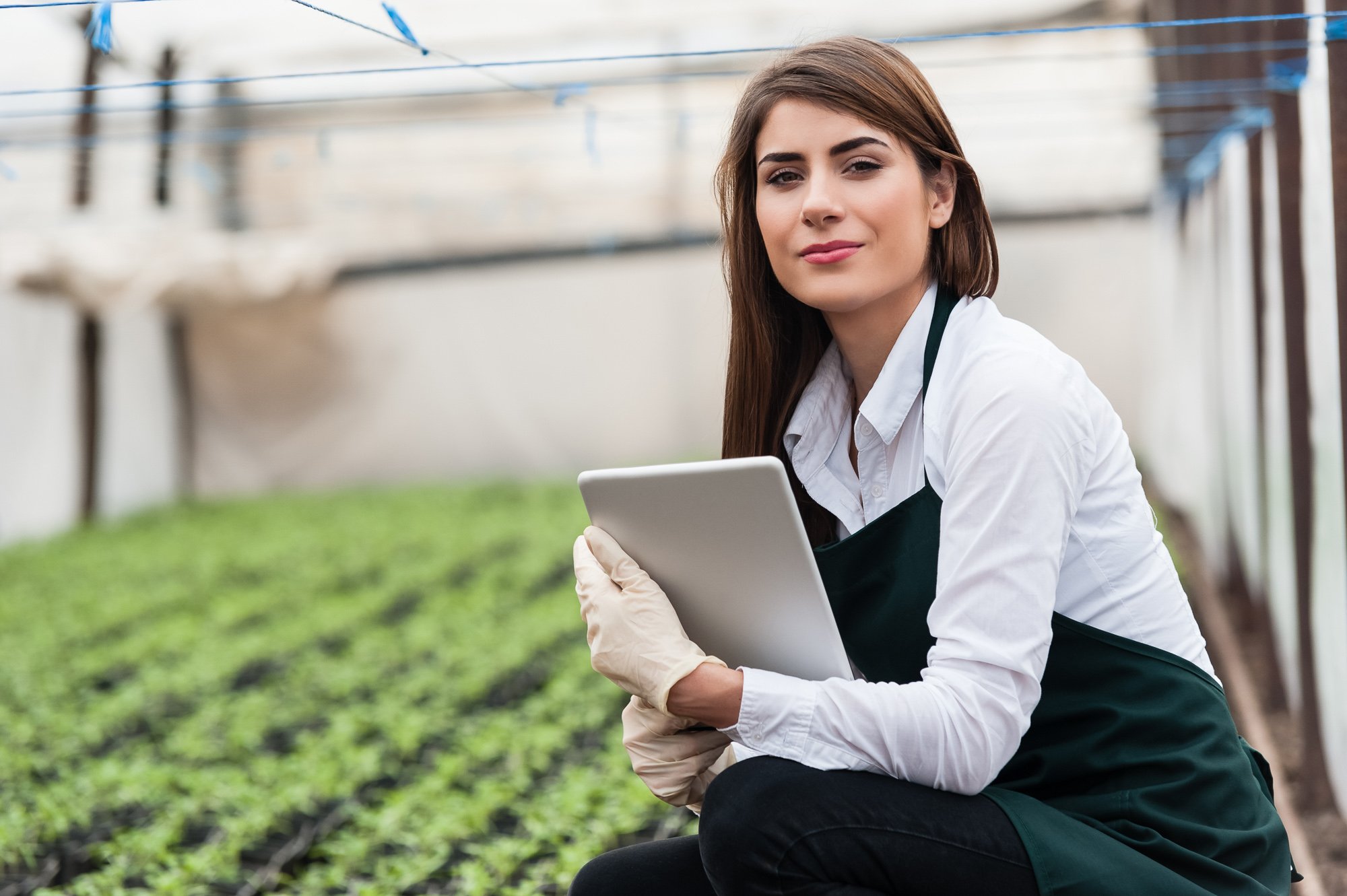 Manufacturing and producing alternative proteins
Identify product and category white spaces. Accelerate innovation. Scale the supply chain so that alternative proteins can be as accessible, affordable, and delicious as conventional animal products.
Insights in your inbox
Our monthly newsletter features the latest news and opportunities.
Market and consumer research
More than 75 percent of consumers have tried plant-based meat or are willing to try it. GFI's consumer research helps companies understand the many consumer groups interested in alternative proteins, prioritize product attributes, and develop messaging strategies to maximize alternative protein sales. Our market research provides overviews of the business and technological landscapes, identifies trends and white space opportunities, and captures data on market sizing and purchase dynamics.
Consumer insights
GFI's consumer insights cover consumer demographics, adoption, perceptions, attitudes, motivations, and barriers
GFI's consumer insights identify and understand current and potential consumers for alternative proteins. With a mix of primary research and literature reviews, we cover demographics, adoption, perceptions, acceptance, motivations, and barriers. We also review category language and descriptors that drive purchase intent, as well as opportunities for future research.
GFI's consumer research includes:
View our consumer insights to learn more about current and potential consumers of alternative proteins.
Retail market overview
Our insights into U.S. retail sales data for plant-based meat, egg, and dairy products include category-level data on market size, growth, and purchase dynamics
GFI's summary of U.S. retail sales data details the growth of the plant-based industry:
Plant-based foods reached dollar sales of $7.4 billion in 2021, up six percent since 2020, and 54 percent since 2018.
After plant-based meat passed the billion-dollar mark for the first time in 2020, the category remained steady in 2021. Plant-based meat dollar sales have grown 74% since 2018 to $1.4 billion.
Plant-based milk is the most developed plant-based category, accounting for 16 percent of all dollar sales of retail milk, with 42 percent of U.S. households purchasing plant-based milk.
Plant-based eggs is the smallest but fastest-growing category, with a 42 percent growth in dollar sales from 2020 to 2021.
Note: This data is based on custom-GFI plant-based categories that were created by refining standard SPINS categories. Due to the custom nature of these categories, the presented data will not align with standard SPINS categories.
Foodservice market overview
Foodservice sales data suggests that plant-based food continues to attract new consumers and drive foodservice growth
We worked with market research firm NPD to provide a data-driven look at plant-based meat's sales performance in foodservice:
For the segment of the foodservice market covered, dollar sales of plant-based menu items grew by 37 percent from 2018 to 2019.
Grubhub reported that vegetarian- and vegan-friendly dishes represented seven of the top 10 most ordered dishes in 2019, up from three in 2018.
As the foodservice sector rebuilds from the pandemic, plant-based foods continue to be important for increasing check sizes and appealing to young, digitally fluent consumers. These consumers are more likely to use delivery services, which are currently a major source of foodservice sales.
For more insights on the foodservice market, view our Plant-Based Foodservice Market Overview webinar, and read our blog post on how plant-based companies can adapt their foodservice strategy during the pandemic.
The international market
International market research
Alternative proteins are booming all over the world. GFI teams up with partner organizations like ProVeg as well as GFI international affiliate offices in Brazil, India, Israel, Europe, China, and Asia-Pacific to support the global alternative protein industry.
Our international market research identifies alternative protein opportunities across the globe:
Sign up for our monthly newsletter for the latest international market analysis and research.
Join the international plant-based market webinar series
Our international plant-based market webinar series dives deep into the plant-based market in different regions. These cover high-level market data, the business landscape, and consumer insights.
Watch our European Plant-Based Market Overview and Brazilian Plant-Based Market Overview.
Business and technological landscape
Business and technological landscape
The business landscape for alternative proteins is thriving—as one milestone, nine of the ten largest meat companies in the United States had launched, bought, or collaborated on a plant-based meat brand by the end of 2019. Our flagship State of the Industry reports provide an in-depth overview of each alternative protein production platform: plant-based, cultivated, and fermentation. The reports cover the top companies in each sector, sales data, investment analysis, technological advancements, and the latest regulatory information.
Our company database includes alternative protein brands, suppliers, ingredient companies, and manufacturers. Use the database to understand the competitive landscape and identify potential partners.
Product innovation guidance
Pioneering innovators in the alternative protein sector have jump-started a virtuous cycle of product and technology innovation, customer acquisition, investment, and scaled production. Recent years have seen several scientists, entrepreneurs, and corporations developing innovative ingredients, paradigm-shifting technological advances in production, and leading-edge marketing strategies.
Our guidance and resources help enable the food industry to deliver plant-based, cultivated, and other alternative protein products that compete on the key drivers of consumer choice: taste, price, and convenience.
Taste, price, and convenience
Innovate on taste
Taste is a primary motivator for consuming plant-based foods—and, simultaneously, the main barrier to consumer adoption.
Seventy-three percent of consumers agree that plant-based meat should mimic the taste of meat.
Forty-seven percent of consumers want more variety in plant-based meats.
Fifty-one percent of consumers want more variety in protein sources for plant-based meat.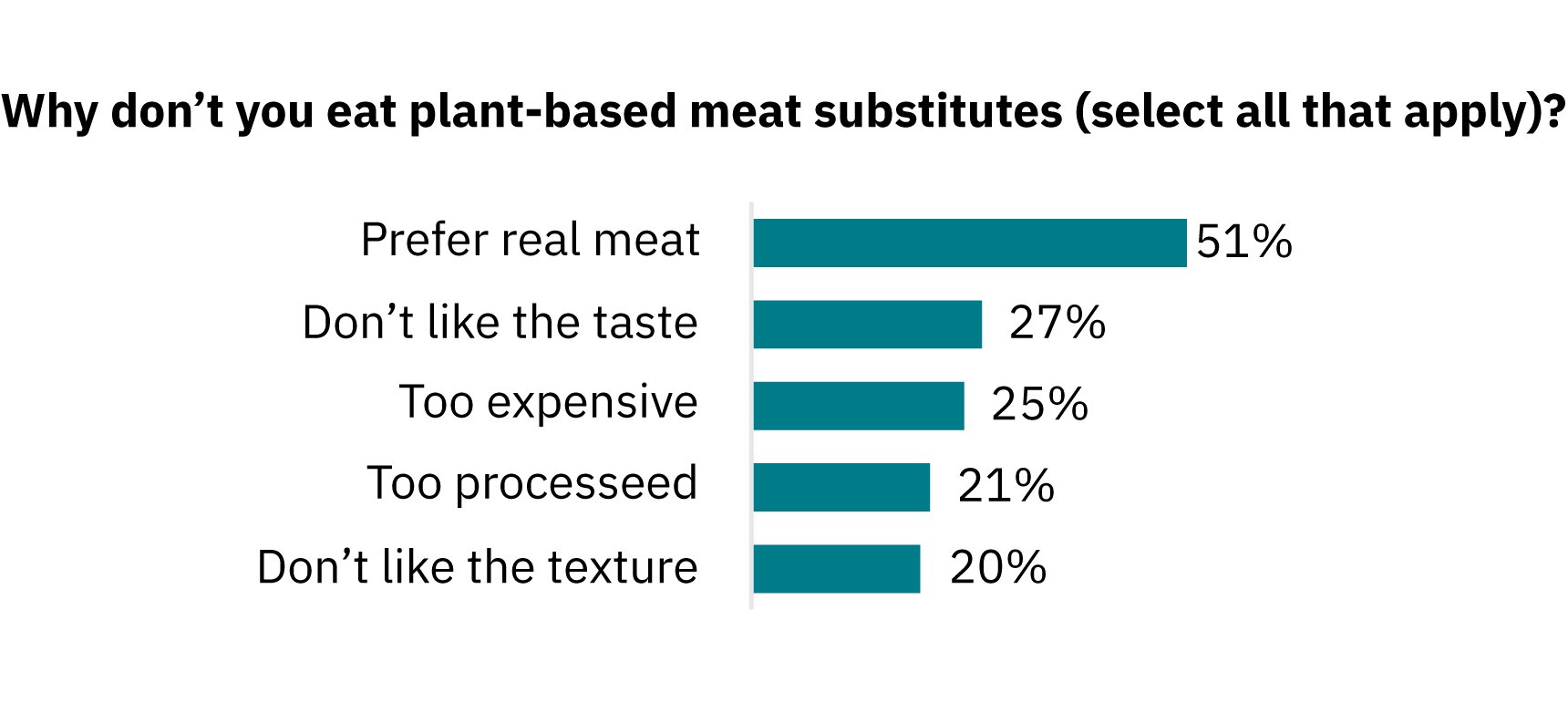 Close the price gap
Across categories, plant-based products are priced at a premium compared to animal-based products. Consumers say price is second only to taste in importance as an attribute when considering purchasing plant-based meat.
Most consumers said they would pay less or the same for plant-based products compared to animal-based products.
Only 27 percent said they would consider paying more.
Convenience appeals to all
Increasing access to plant-based food in mainstream grocery stores and restaurants is resulting in adoption from the largest group of consumers — omnivores.
Seventy-six percent of consumers want to find plant-based meat in the meat aisle and frozen area where they already shop.
Millennials rank convenience more highly than other groups do, and care about the ease of cooking & preparation.
To increase adoption of plant-based meat, manufacturers should consider:
Creating delicious products that mimic the sensory qualities of animal products, including texture, smell, and taste.
Scaling up production and pursuing technical innovation so alternative protein products reach price parity with conventional meat.
Advocating for their products to be shelved in the meat aisle where most consumers seek out center-of-plate proteins.
For a deeper dive into the consumer insights that inform our recommendations, including product development, choice architecture, and consumer messaging, please check out our report on Strategies to Accelerate Consumer Adoption of Plant-Based Meat and visit our consumer insights.
Plant protein ingredients and processing
Our Plant Protein Primer is the go-to resource for understanding different plant-based protein sources. It includes an analysis of 19 plant protein sources with a summary comparing these sources on nutrition, functionality, price, flavor, and sourcing. For a quick glance, download the Plant Protein Landscape summary.
View our Plant-Based Meat Manufacturing by Extrusion Guide for an overview of plant-based meat processing and directories of ingredients, pilot facilities, co-manufacturers, and related events.
Scientific overview
Join the thousands of people who have signed up for GFI's massive open online course on the science of plant-based and cultivated meat. The six-session self-paced course covers the biological and chemical processes used to produce plant-based and cultivated meat, the environmental and economic drivers behind these sectors, and the dietary roles of proteins.
Visit GFI's in-depth pages on the science of plant-based protein, cultivated meat, and fermentation for a deep dive into these production platforms.
Technical resources
Your market strategy
While the best go-to-market strategy will depend on the specific company and product, GFI's resources provide a valuable overview of the distribution landscape:
For tailored recommendations, please request a meeting with our Corporate Engagement experts.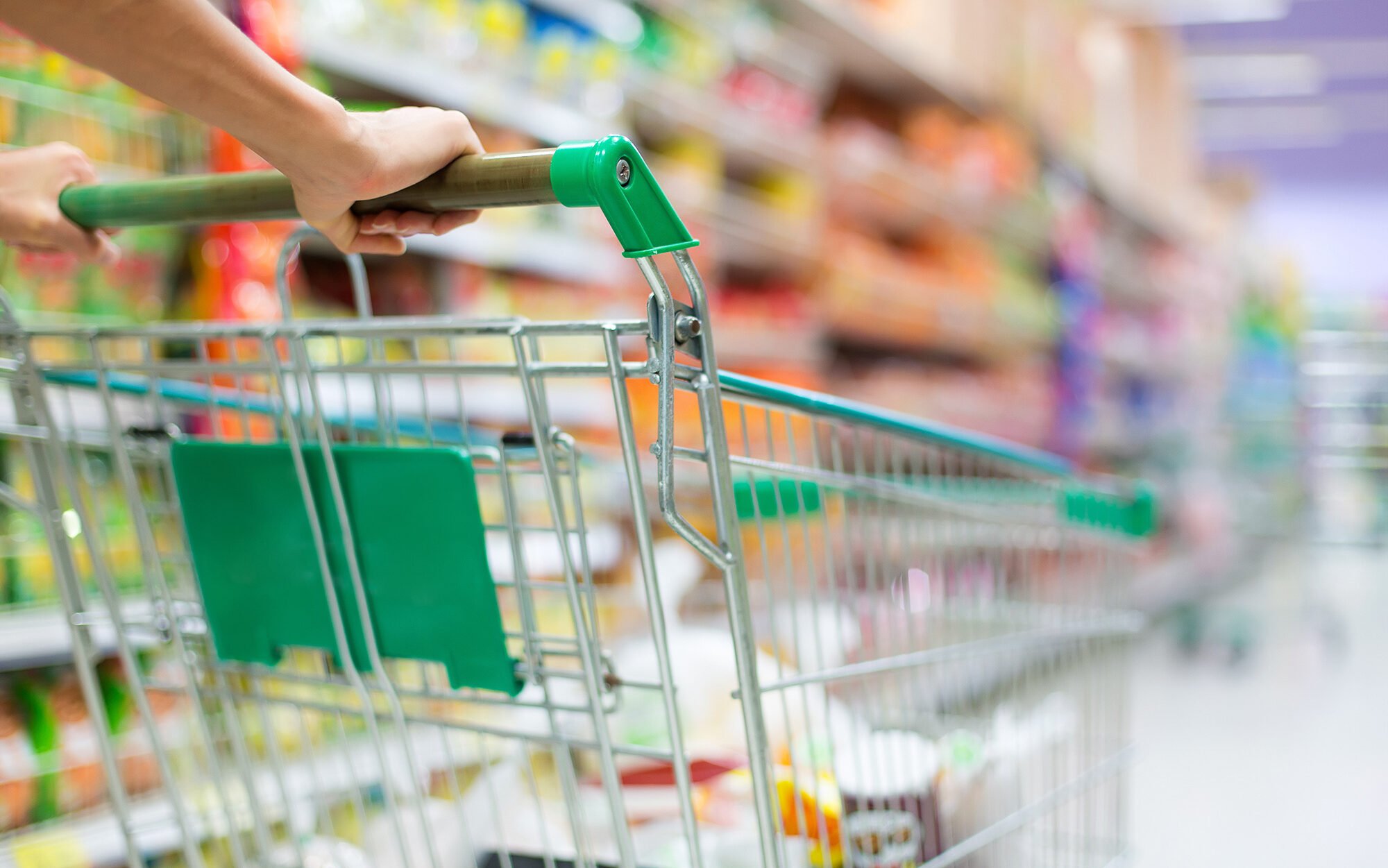 Selling into retail
GFI works directly with leading retailers to increase sales of plant-based foods by offering best practices on assortment, merchandising, and marketing.
View our retail resource page to learn which retail strategies can increase sales of plant-based meat, eggs, and dairy and grow total store sales.
The retail landscape
Our first-of-its-kind Retail Report evaluates the top 15 retailers according to plant-based assortment, merchandising, and marketing. It provides an overview of the retail landscape, including key sales statistics, case studies, and evidence-based practices for increasing plant-based retail food sales.
View our webinar on Winning Plant-Based Strategies for Retail for key insights from our retail report, along with an insider perspective from a special guest from Whole Foods Market, one of the leading retailers for plant-based foods.
Marketing plant-based foods
Our primary consumer research and literature reviews contain insights for labeling and marketing language that appeal to consumers and drive purchase intent:

Labeling guidance
A well-crafted product label can promote first-time purchases of plant-based products. Once consumers have tried plant-based products, they're highly likely to buy them again.
Evidence-based product labeling recommendations:
Use "plant-based" or "plant protein" as product descriptors.
On-product health labels should focus on positive health benefits like "high protein" or "high fiber" instead of restrictive language like "low fat."
Develop positive messaging around the taste and sensory properties of plant-based meat. Use indulgent language that emphasizes product taste and the experience and enjoyment of eating.
Highlight plant-based meat's similarity to conventional meat in its ease and quickness of preparation.
Message about altruistic benefits sparingly or only alongside appeals to traditional core drivers of food choice – taste, price, convenience, and familiarity.
Emphasize plant-based meat's increasing acceptability and prevalence.
Design message content and framing with omnivores in mind.
For the rationale behind each of these tips, review the Strategies to Accelerate Consumer Adoption of Plant-Based Meat paper.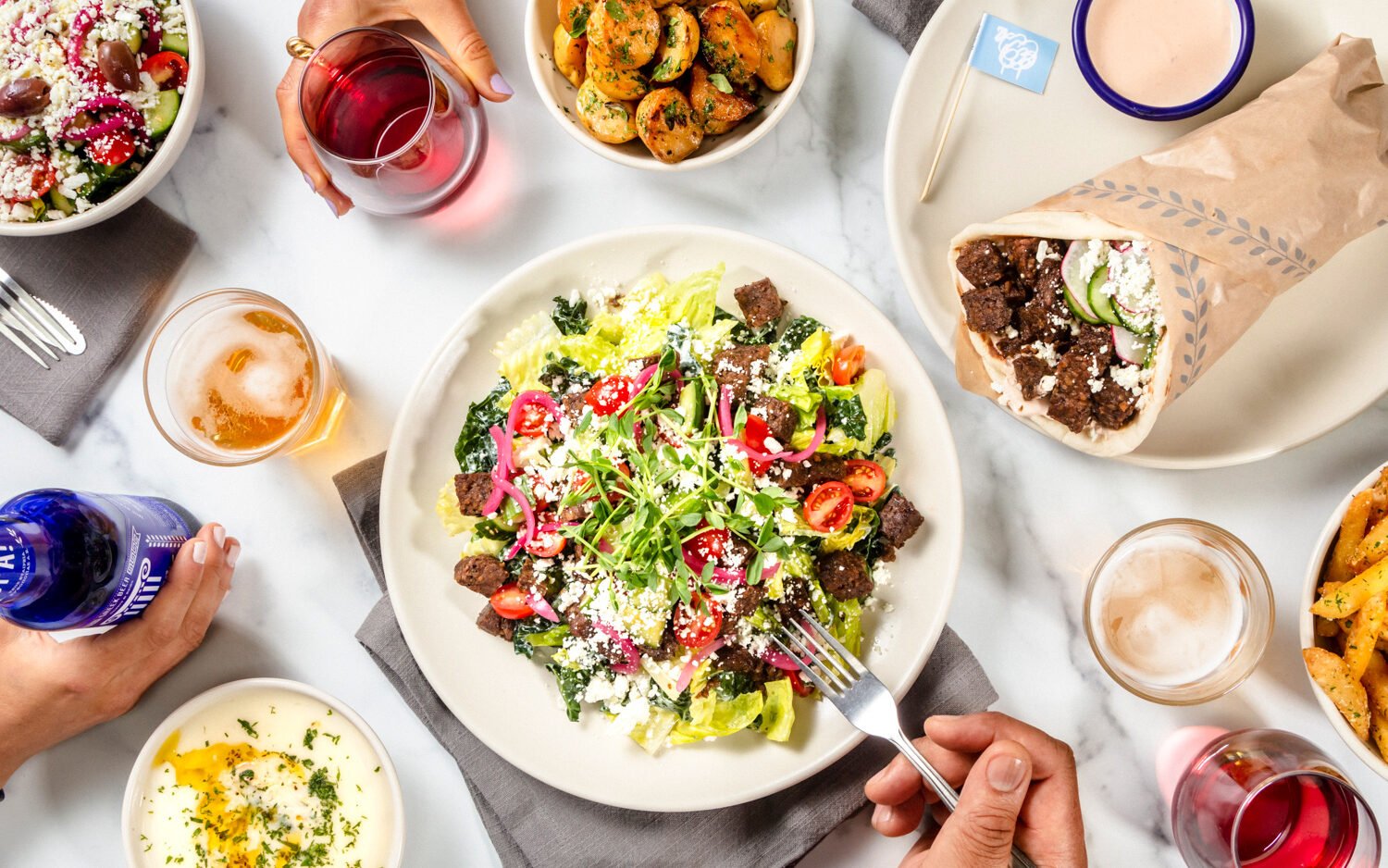 Selling into foodservice
Selling a product into foodservice offers a number of benefits for plant-based manufacturers:
Guaranteeing your product is prepared in a standardized way before it reaches the consumer's plate.
Selling products at a premium.
Reaching consumers who may not try it otherwise.
A growing body of evidence suggests that alternative proteins are a key growth driver for restaurants, helping them attract new customers and raise check sizes. View our foodservice resources for market data, menu ideas, and strategies for launching successful plant-based items in restaurant and non-commercial foodservice channels.
The foodservice landscape
More than half of the top 100 restaurants in the U.S. have launched or piloted a plant-based entrée. Restaurants have a strong competitive incentive to offer plant-based menu options: they eliminate "veto votes" in group dining situations, raise average check sizes, and bring in new customers.
The Good Food Restaurant Scorecard ranks the top 100 restaurants in the United States on the breadth and depth of their plant-based options. A number of top restaurants have yet to launch a plant-based option, creating large opportunities for plant-based manufacturers to sell into foodservice.
How to sell into foodservice
Here are three key tips for plant-based companies selling into foodservice:
Make foodservice sales sheets easily available on social media and your website.
Emphasize the versatility of your products and show the applications and dishes they can be used for. Share data on how you can attract new customers, raise check averages, and/or lower costs. Include per-serving costs to make it easy for operators to calculate profitability.
Tasting and testing are believing.
Do product training and tastings with your distributor sales teams and chefs. Also work with your operator prospects and partners on recipe development. Finally, partner with foodservice management companies and chef training groups like Forward Food to get your products in front of key decision makers.
Make taste the primary message.
Always emphasize flavor in your marketing and empower your foodservice partners to keep tastiness top-of-mind by providing image and descriptive assets they can repurpose.
Marketing and menu design
Our foodservice toolkit includes evidence-based practices for marketing and promoting plant-based foods on menus. Key recommendations include:
Lead with flavor.
Use indulgent language to emphasize that your product will offer familiar, craveable experiences consumers want.
Embrace the health benefits of plant-based.
Health is a key driver of interest in plant-based proteins; use health-positive language that highlights benefits, not what's missing. These messages appeal to the nutritional halo of plant-based foods.
Position plant-based dishes to succeed with flexitarians.
List plant-based dishes alongside other items rather than in a separate vegan/vegetarian section where they won't be seen.
Label dishes as "plant-based" or "plant protein."
Favor more inclusive terms like "plant-based" or "plant-protein" over the terms "vegan" or "vegetarian" to appeal to more consumers and increase purchase intent.
Make plant-based options the default.
Make protein an optional add-on and include plant-based protein offerings.
For more insights, please view the one-page guides:
Sign up for our industry newsletter
Finding these resources helpful? Get notified when GFI releases new resources and opportunities by signing up for our newsletter!
"*" indicates required fields
Engage with GFI
GFI's work enables our food industry partners to develop and market plant-based, cultivated, and other alternative protein products. We work with consumer packaged goods companies, large food and meat companies, and alternative protein companies. GFI's experts analyze the market, uncover consumer insights, identify whitespace opportunities, provide advice, make industry connections, and build communities. We do all this to enable the food industry to deliver alternative protein products that compete on the key drivers of consumer choice: taste, price, and convenience.

Specifically, we provide guidance to:
Entrepreneurs and startups seeking to bring their ideas to market and fast-track growth.
Manufacturers developing and bringing to market the next generation of alternative protein products.
Ingredient companies creating the next generation of alternative protein ingredients and optimizing raw materials, inputs, and functional additives.
Suppliers creating the next generation of ingredients and inputs, processing services, and other enabling technologies.
Equipment manufacturers developing and commercializing equipment optimized for alternative protein production at scale.
We can also work under NDA to offer input at critical milestones in product development and provide marketing guidance to maximize sales.
Page
Environmental, Social, and Governance framework
GFI & FAIRR's ESG frameworks supply investors and companies in the alternative proteins industry with tools to monitor, measure, and report on risks and opportunities.
Resources for manufacturers
Resource
Consumer insights
Understand consumers, demographics, adoption, motivations, category descriptors, and opportunities for future research in alternative proteins.
Innovation opportunities for manufacturers
GFI has identified specific commercial white spaces that offer clear business opportunities for manufacturers in the industry. View our full solutions database for further ideas.