Promoting plant-based items on menus
Learn 19 best practices for marketing and promoting plant-based meat, egg, and dairy items on foodservice and restaurant menus.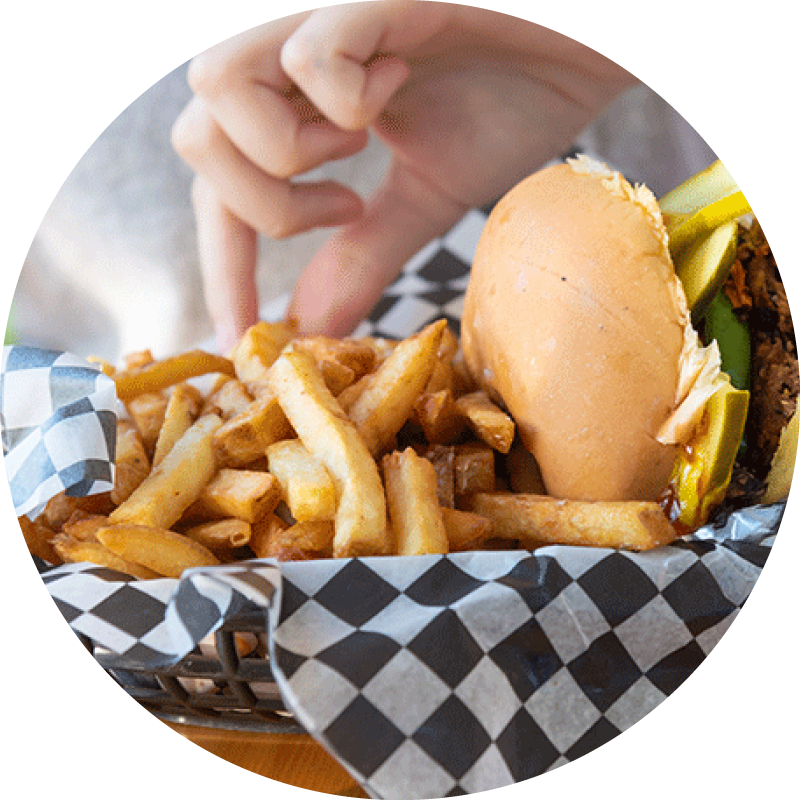 1. Make flavor the primary message
Create and showcase indulgent plant-based dishes with taste-forward positioning.
2. Price competitively
Price is often a perceived barrier, but many consumers are willing to pay slightly more for plant-based items. Successful launches from Burger King, A&W Canada, Carl's Jr., and White Castle have featured a small price premium. Aim for price parity or a small premium of 5-10%. If necessary, make plant-based a premium upgrade.
3. Integrate with other dishes on the menu
Don't isolate plant-based items in separate menu sections; integrate them with similar dishes.
4. Highlight provenance
Nationality: "All-American"
Regional: "Southern"
Cuisine: "Cuban"
Preparation: "Pan-seared chick'n"
5. Keep it familiar
The research is clear: familiar contexts, formats, flavors, preparation, and messaging resonate with consumers. Make commonplace dishes and utilize plant-based foods as part of familiar meals. For example, pair plant-based meatballs with marinara sauce and spaghetti.
6. Add an exciting twist of novelty
Plant-based meat is well-positioned to meet the need for familiarity as well as the desire to try new and exciting foods. This is familiar food with a twist, "a delicious burger made from plants!"
7. Emphasize the protein content & quality
Consumers often rely on protein as an indicator of satiety, nutrition, and feeling energized.
8. Let plant proteins subtly cue health
Flavor should be the primary message, but noting "plant protein" can be a subtle healthy cue. 38% of US consumers associate plant proteins with positive health effects.
9. Use positive framing
Talk about what the dish offers (made from plants, plant-powered) instead of what the dish doesn't contain (meatless, reduced meat).
10. Accentuate the health benefits, not the negatives
Pointing out positive nutritional content (high protein, high fiber) is more effective than describing low levels of negative things (low sugar, low fat).
11. Use strong imagery
Pictures communicate flavor better than words!
12. Use commonplace promotional placements
Show plant-based dishes alongside animal-based items to demonstrate similarity and set expectations that they will fill the same wants and needs.
13. Extend your brand equity
Leverage your brand loyalty to endorse new plant-based menu items, e.g. Burger King's Impossible burger, "0% beef, 100% Whopper" or the McDonalds McPlant platform.
14. Use appealing descriptors
Words to use: Plant protein, plant-based, veggie, 100% plant-based, 100% plants.Words to avoid or use sparingly: vegan, meat-free, meatless, vegetarian, beef-less. See GFI's study on category descriptors for more insight.
15. Mark items as vegan or vegetarian subtly
Use small symbols. Vegan or vegetarian are seen by U.S. consumers as lifestyles rather than types of cuisine, and vegetarian/vegan consumers will find the options even without labels.
16. Invest in promotion
Just like other menu items, plant-based foods benefit from good marketing and intentional advertising. Use images and videos (such as Waymark's social media video creator) that highlight flavor and familiarity.
17. Get your team excited about plant-based
Train your frontline staff on how to market plant-based dishes and describe the nutritional and sustainability advantages. For free plant-based recipe development and culinary training, please contact Forward Food.
18. Make sure plant-based dishes fit your brand and menu
Plant-based dishes perform best when they are positioned as a natural extension of what your consumers expect from your brand and complement the other items on your menu.
19. Make sure plant-based foods integrate easily with your back-of-the-house operations
Plant-based foods need to fit with your purchasing, storage, food handling, and cooking processes. Most plant-based foods do not need to be prepared on separate cooking equipment, unless your brand has a high proportion of consumers with allergies or dietary restrictions.
Explore more plant-based marketing guides