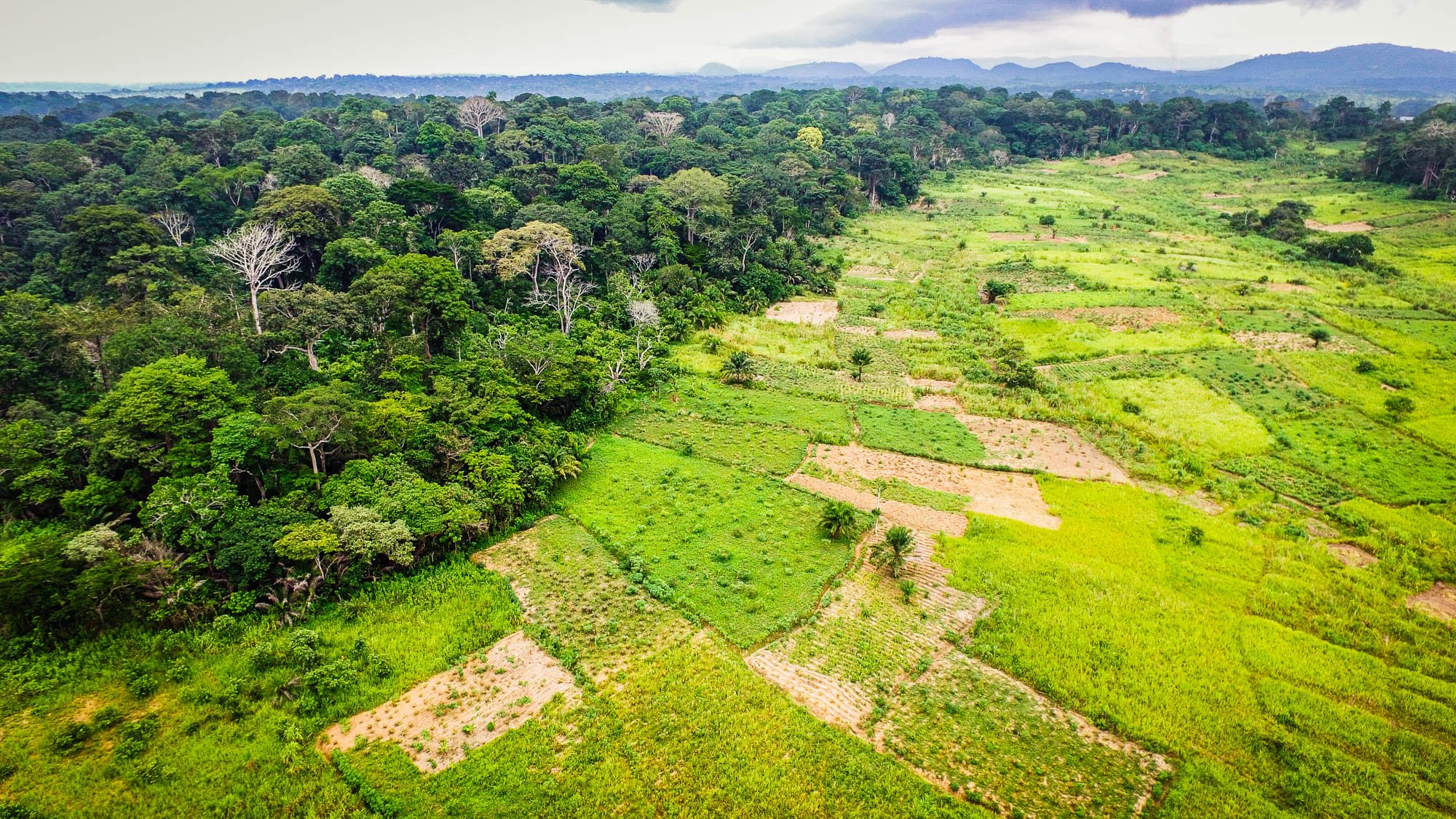 Alt proteins are a global climate solution
Today, agriculture accounts for a third of all global emissions. Animal agriculture alone – including the crops and pastures to feed those animals—accounts for 20 percent of all emissions. A solution? Change how meat is made. Alternative proteins—meat made from plants or cultivated from animal cells—deliver the same foods we love with an added bonus: They slash emissions by up to 92 percent, offering a serious, scalable path forward for meeting the world's climate goals.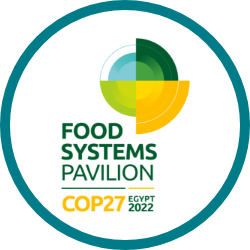 GFI at COP27
Global demand for meat is set to nearly double by 2050
Our current system of meat production is a major driver of global greenhouse gas emissions. Plant-based and cultivated meat are a critical climate solution for satisfying growing demand for meat with a fraction of the emissions of industrial animal agriculture.
It will be both scientifically and mathematically impossible for governments to meet obligations under the Paris Climate Agreement to decarbonize the global economy unless the amount of meat produced via conventional animal agriculture goes down. As the milestone year of 2030 nears, significant and rapid reductions in emissions across all sectors are needed if we are to keep global warming below the 1.5℃ threshold.
Alternative proteins are a key aspect of how we will meet this need while also meeting growing global demand. When compared with conventional meat, plant-based meat causes up to 98% less emissions and cultivated meat could cause up to 92% less emissions. Just like eliminating fossil fuels and combustion engines, alternative methods of making meat require government support. Around the world, governments can lead the way by funding science, creating scientific innovation centers, and incentivizing private sector R&D and private sector manufacturing and infrastructure build-up focused on alternative meat production methods.
Alternative proteins are to agriculture as renewables are to energy—the future.
Page
Environmental benefits of alt proteins
How eco-friendly are plant-based and cultivated meats? Explore their climate impacts and resource requirements relative to conventional meat.
Alternative proteins are on the COP27 agenda
During COP27, GFI representatives from Asia-Pacific, Brazil, Europe, India, Israel, and the U.S. will be raising the profile of alternative proteins as a key solution for climate, food security, and biodiversity. GFI's policy priorities at the global climate gathering will focus on engaging governments to invest in alternative protein R&D and to include alternative proteins in national climate mitigation plans.

In addition to participating in multiple country-level and issue-based pavilions, GFI is a co-host of the Food Systems Pavilion in the Blue Zone—the first of its kind—where we are joining forces with partner organizations from around the world to work toward a common aim: Transform the world's food systems to create a net-zero, nature-positive world. In the Pavilion, GFI will be leading Food Systems Resilience and Biodiversity Days and co-leading Climate Resilient Agriculture and Blue Foods Days. Through expert panels, Q&As, and demonstrations, the GFI delegation will represent the transformative impact that government support for alternative proteins can have on climate, resilient food supply chains, and biodiverse lands and waters.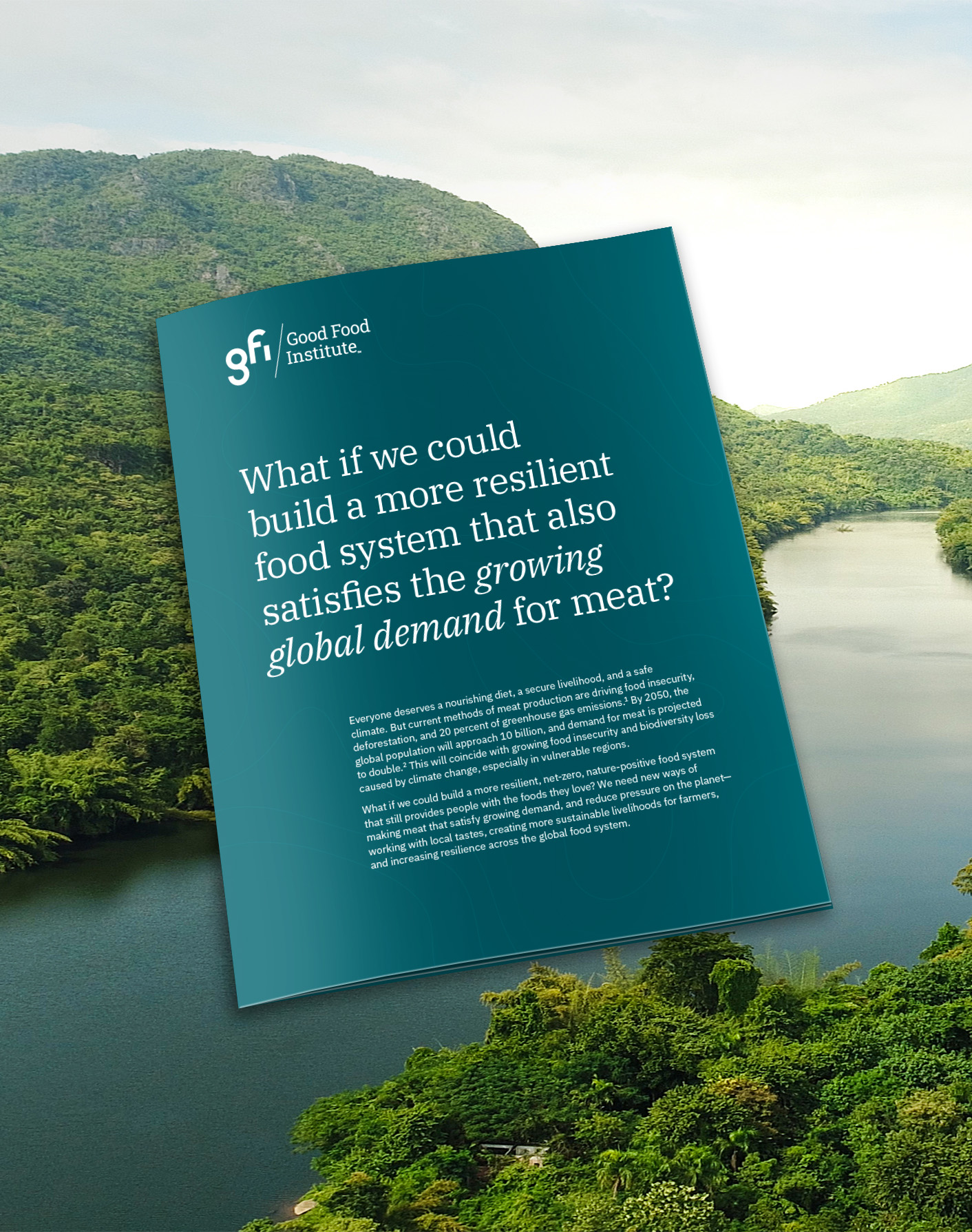 Making the case for alt proteins at COP27
Just as the world is changing how energy is produced, we need to change how meat is made. Alternative proteins—meat made from plants and cultivated from cells—can satisfy growing demand, dramatically reduce emissions, feed more people with fewer resources, and enable recovery of natural ecosystems. Governments must invest in open-access research and create private sector incentives to realize the full societal benefits of plant-based and cultivated meat and make these options accessible to all.
Event
United Nations Climate Change Conference (COP27)
For the first time ever, there will be a Food Systems Pavilion at the UN Climate Change Conference, putting food center stage during these crucial negotiations — and the Good…
Alternative proteins 101
There are three main categories of alternative proteins: plant-based, fermentation-derived, and cultivated. Just as the goal with renewable energy and electric vehicles is to make them interchangeable with conventional energy and combustion-powered vehicles, so too are alternative proteins focused on winning in the marketplace.
Plant-based meat looks, tastes, and cooks like conventional meat, but is made entirely from plants. It can cut emissions by 90 percent, and use 99 percent less land and water than conventional meat.1
Fermentation is a powerful, flexible process for using microorganisms to produce alternative proteins. Used in food production for millennia, fermentation offers several advantages that can further increase the efficiency of the alt protein sector as a whole.
Cultivated meat is exactly the same as the beef, pork, chicken, and fish we eat today—but grown directly from animal cells, without antibiotics. It can cut emissions by 92 percent, and use up to 95 percent less land and 78 percent less water than conventional meat.2
This is your guide to plant-based meat. Explore our tools, resources, and expert analysis of this field, from science to policy and markets.
This is your guide to cultivated meat. Explore our tools, resources, and expert analysis of the cultivated meat industry.
This is your guide to precision fermentation and whole biomass fermentation for alt protein production. Find resources, tools, and expert industry analysis here.
Learn more about alt proteins as a climate solution
From in-depth, data-driven reports and events to media statements, white papers, and blogs, GFI experts make the case for alternative proteins as a scalable solution that can address climate change caused by global food production. To meet growing global demand, meat production is estimated to increase by more than 50 percent by 2050. If the world is to achieve its climate, global health, food security, and biodiversity goals, making meat differently via alternative proteins (plant-based and cultivated meat) will be as essential as the global transition to renewable energy.
How you can support GFI's climate-focused work
GFI's work with scientists, businesses, and policymakers across the global food system is powered by philanthropy. Thanks to our donors, we are able to advance alternative proteins as a climate solution that is global, tractable, and high-impact. If you are interested in learning more about giving to GFI, please visit here or contact philanthropy@gfi.org.